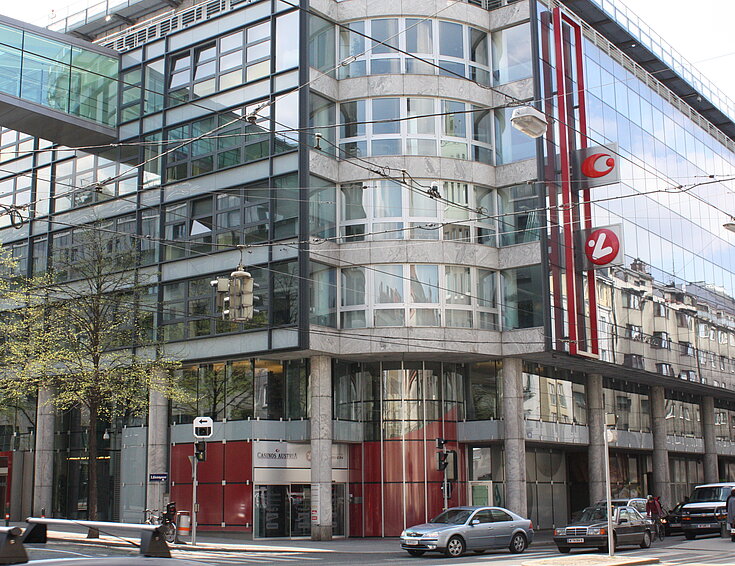 At today´s Casinos Austria AG supervisory board meeting, the management presented its consolidated financial statements for 2020.
In the past fiscal year, the COVID-19 pandemic left deep scars on the balance sheet of Casinos Austria and Austrian Lotteries Group. After all of the 12 domestic casinos and 21 WINWIN locations were closed for a total of 135 days in 2020 due to the COVID-19 pandemic and 26 international operations had to record numerous closing days, the consolidated gross gaming revenue (corporate group revenue) now stands at 1.134 billion euros (2019: 1.359 billion euros). The consolidated net income dropped to 0.95 million euros compared to 112 million euros in 2019.
Additional burdens worth noting were the restructuring costs of around 55 million euros, which were raised in the course of the ReFIT restructuring programme, as well as depreciations of around 21 million euros.
The group managed to avoid slipping into the red through the use of one-time effects. For one thing, there was an increase in the number of multiple jackpots for Lotto "6 out of 45" over the past year. A campaign to channel casino guests into the digital offers of online gaming website win2day.at was quite successful.
With 594 million euros in taxes and contributions in Austria, the group remains one of the country's largest taxpayers, although declining revenues over the past year are reflected here as well, of course (2019: 643 million euros).
"This past business year was the most challenging in the entire history of our company. Due to the extremely strenuous conditions, it was enormously difficult for the entire corporate group to stay on course economically. We also went through a large-scale restructuring programme affecting all divisions, which in turn laid the foundation for a positive future for the group. This past year was a special tour de force that demonstrated great unity at all levels of the company. The owners, the Supervisory Board, the management, the employee representatives and the entire staff pulled together to tackle these challenges. I would like to express my sincere thanks for all of this. I'm very proud that we managed to succeed together," says CEO Bettina Glatz-Kremsner as she looks back on this past fiscal year.
Bettina Glatz-Kremsner will not be available to extend her contract
CEO Bettina Glatz-Kremsner's current Executive Board contract expires in April 2022. After careful consideration, Glatz-Kremsner informed the Supervisory Board at today's meeting that she will not be extending her contract next year, citing personal reasons. The timely notification allows the Supervisory Board a full year to arrange for a successor. Of course Glatz-Kremsner will do everything she can to ensure an optimal handover for the good of the company.
"In the coming year, our corporate group will lose Bettina Glatz-Kremsner, our figurehead of the past years and even decades. It is, of course, a painful loss for our company. I would like to express my sincere gratitude to Bettina Glatz-Kremsner for her outstanding performance at the helm of our corporate group and her transparent approach to her future plans. By taking this responsible step, Bettina Glatz-Kremsner is ensuring that her succession can be organised optimally and for the good of the company," Supervisory Board President Wolfgang Hesoun stated in his remarks on this decision.
"With her tireless commitment, great expertise and tremendous passion for the business, Bettina Glatz-Kremsner shaped our company as a member of the Casinos Austria Management Board for many years. As an ÖBAG Managing Board Member, I've always found her to be a competent, emphatic contact partner who has driven and continues to drive Casinos Austria AG's realignment with a farsighted perspective," ÖBAG Managing Board member Thomas Schmid stated in his remarks.
"The Supervisory Board of Casinos Austria has acknowledged the fact that Bettina Glatz-Kremsner will not be available for a contract extension. On behalf of the Sazka Group as the majority shareholder of the company, I would like to thank Bettina for her contributions over all these years and in particular for her role in the top management levels during occasionally challenging times. I've known Bettina since the time I lived in Austria, long before our professional paths crossed, and I've always highly appreciated her commitment to the company where she spent 30 years, as well as her constant efforts to meet the needs of our employees, stakeholders and customers. We're grateful to Bettina for her timely notification of not being available to extend her contract, which now allows the Supervisory Board to take action in its search for a successor with strong industry experience to take up the leadership role in the company as quickly as possible in these challenging times. A professional transition process is very important to us," said Robert Chvatal, CEO of the SAZKA Group and Vice President of Casinos Austria AG's Supervisory Board.