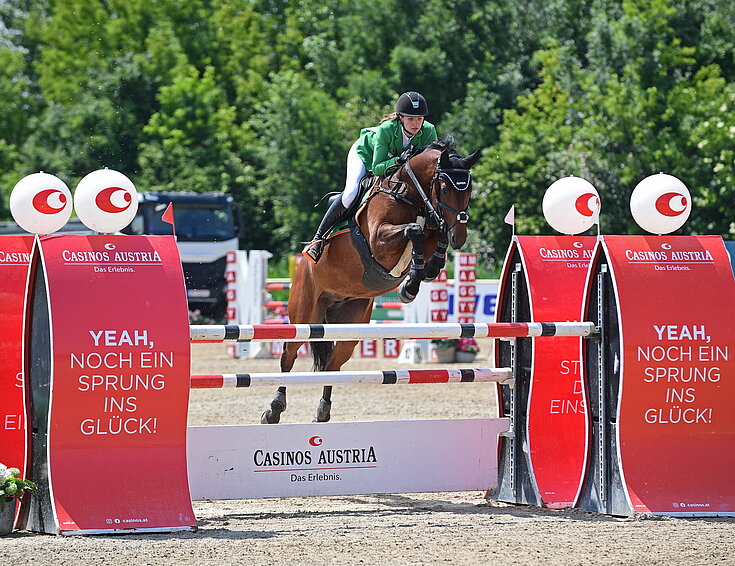 In 2022, the tournament series for the domestic young show jumping talent will offer an even more attractive competition mode and a significantly higher final prize, amounting to 6,000 euros.
Just last year, Casinos Austria launched a new show jumping series: The Casinos Austria Future Cup promotes young talent in equestrian sports, and it aims to pave the way for young talent towards the 2024 Paris Olympic Games. Equestrians between 18 and 25 years of age are eligible to participate in the Cup, which is being held in cooperation with the Austrian Equestrian Sports Association (OEPS).
With regard to the Olympics, the regulations were changed for 2022. International equestrian athletes of corresponding age groups are also admitte in the four preliminary rounds, held between April and August. By expanding the field of participants, the tournament series will be raised to the performance level of larger competitions. In the Casinos Austria Future Cup Final, only Austrian nationals – the top eight riders – are eligible to compete.
The final round features an attractive prize money pot that has been significantly increased over the premiere year. 6,000 euros will be paid out to the eight finalists, and 2,000 euros will go to the winner of the final round. The appeal of participating in the finals is additionally enhanced by the fact that points from preliminary rounds are not taken into account – which means that all the finalists have an equal opportunity.
2022 Events:
Preliminary round: April 14 to 17, 2022: St. Margarethen, Carinthia
Preliminary round: June 3 to 6, 2022: Lassee, Lower Austria
Preliminary round: July 21 to 24, 2022: Farrach-Zeltweg, Styria
Preliminary round: August 4 to 7, 2022: Kammer-Schörfling, Upper Austria
Final round: August 8, 2022: Kammer-Schörfling, Upper Austria
Casinos Austria is pleased to continue its commitment to Austrian equestrian sports this year and aims to accompany young talents into a promising future.
Dieter Türmer, Head of Marketing & Customer Management, had this to say about the reasons for the company's commitment: "It's just part of our corporate DNA to assume what we consider our socio-political responsibility in Austria. That's why we promote young Austrian show jumping talent at the Casinos Austria Future Cup, and we'll support them on their way to the 2024 Olympic Games. We've optimised this year's regulations in close cooperation with the OEPS, which focuses our promotional campaign even more; at the same time, it makes the show jumping series even more attractive for our spectators. And that means we can look forward to exciting competitions in 2022 and hopefully also winning a prize medal in Paris in 2024!"
Casinos Austria has always stood for fascination, excitement and truly unique experiences. Young athletes can look forward to all of this when they visit our Casinos Austria Future Cup course.