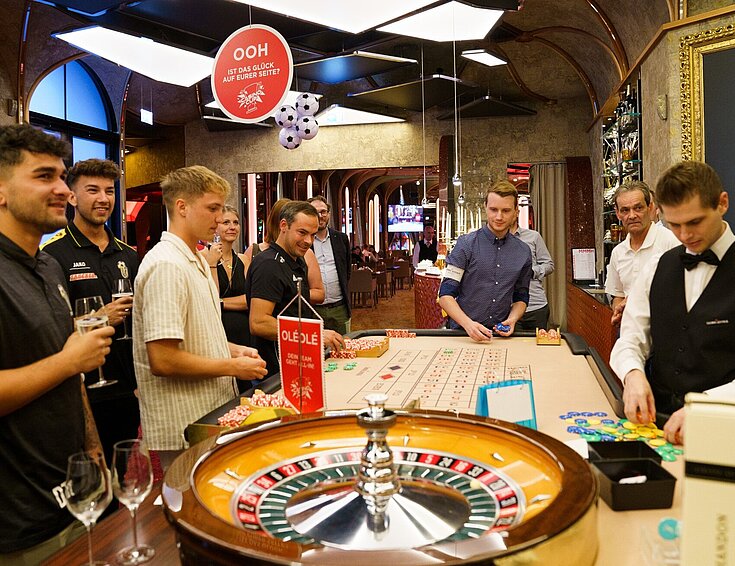 Four football clubs swapped the green of the football pitch for the green of the playing tables last Wednesday. July 13 turned out to be a lucky day for the USC Sonnhofen football club as the team around birthday boy and team captain Johannes Schlagbauer beat the other three teams at roulette, black jack and poker. The lucky winners are already one step closer to the main prize – a one-week training camp – as the Sonnhofener team's victory has secured them a place at the state finals on August 20.
Aside from preparing for the new season, all active footballers from Austrian clubs can now take to the Casinos Austria playing fields at the Casino Cup. The Casino Cup is a competition for footballers and fans playing in any football clubs registered with the Austrian Football Association. This time it's not about fast, cunning exchanges, spectacular long shots and yellow cards, but about exciting entertainment and a bit of luck at the roulette, black jack and poker tables.
The second preliminary round at Casino Graz on July 13 began with a joint reception, the Captains' Meeting. Afterwards, luck was in demand at the roulette, black jack and poker tables. What was at stake was not money, but tournament chips; it was all about the entertainment and the fun factor. On his birthday, Johannes Schlagbauer from USC Sonnhofen (Lower League East) certainly had luck on his side. His team won the day ahead of SV Stainach-Grimming (Lower League North A) and USV Eggersdorf (Lower League Centre). An additional highlight was provided by the female fans of the clubs who demonstrated their skills on the football field. Speaking of women's power: Women's teams are of course also welcome at the Casino Cup. Registration is still possible until August 17.
A video and many pictures of the casual preliminary round at Casino Graz can be found at www.puls4.com/tv/casino-cup.
The main prize: a one-week training camp in Turkey
the winning team of the Casino Cup gets to experience an unforgettable one-week training camp in Turkey.The package includes a stay in an all-inclusive hotel specialising in training camps. The team (20 people) is provided with FIFA standard training sessions (90 minutes each) twice a day. The team also has access to spa and fitness rooms and a dedicated meeting room. A laundry service is provided for sports equipment.
Participation still possible
There are still dates available for anyone who'd like to take part in the Casino Cup. Clubs can register at puls4.com/casinocup at any time. Whoever prevails at the Austrian final in autumn can look forward to a spectacular main prize. The Austrian final of the Casino Cup will be shown as part of an entertaining primetime TV show by PULS 4 in autumn of 2022.