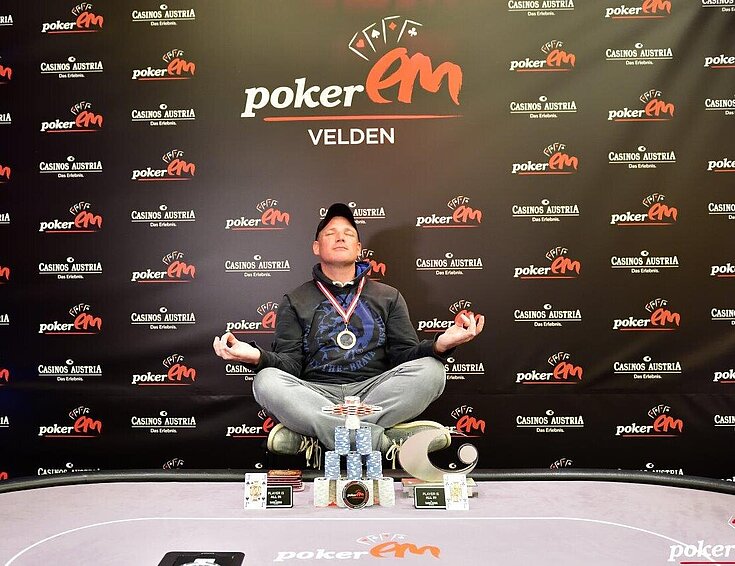 Major poker event ended with new European title and home victory in the main event in Lake Wörthersee's enchanting ambience
Around 1,200 poker players attended the first days of the 31st European Poker Championship, which took place at Casino Velden from July 13 to 24. One of them was Jessica Teusl, newly crowned Poker World Champion. Participants from over 40 countries competed in a total of 12 tournaments and played for six European championship titles and prize money totalling 2.2 million euros.

The "Showdown on Lake Wörthersee", Austria's largest poker event, also made a strong appearance, attracting 756 players this year with a buy-in of 550 euros. Jan Hribernik, a player from Slovenia, prevailed in the final round and won 64,705 euros in prize money.
On a similar scale, the Wörthersee Poker Party with a buy-in of 330 euros took place on the second weekend of the European Poker Championship. On the final day, 61 out of 375 entries were left to compete for the prize of €21,410.

But of course participants are mainly here for the European Poker Championship titles. The Pot Limit Omaha European Championship was won by Latvian player Victors Vorobjovs with a prize money of 67,885 euros. At the Ladies European Championship, Sarah Strak from Austria took over from three-time European Champion Jessica Teusl and won 4,410 euros.

Harry Casagrande, who became the new European Seven Card Stud Champion, outplayed 61 competitors to secure a prize of 11,630 euros.

The most important tournament was of course the Main Event, the 2,750 euro No Limit Hold'em European Poker Championship. Out of 246 entries, nine players made it to the final table. A heads-up deal allowed Austrian player Christian Leichtfried to emerge victoriously, garnering him the title of "2022 European Poker Champion" and prize money totalling 130,190 euros.

High rollers got their money's worth with a 5,400 euro buy-in. In the heads-up, Oliver Wulff from Germany prevailed over Jessica Teusl from Lower Austria. His victory came with 61,500 euros in prize money.

Following international trends, the Mystery Bounty Event with a buy-in of 1,100 euros was awarded as a new European Championship title for the first time this year. After a long, suspenseful final round, Slovakian player Boris Progner finally emerged as the winner. He was able to secure prize money of 20,105 euros and 24,500 euros in bounties.

Lake Wörthersee and Velden in particular are impressive lifestyle settings and the places to be for the international poker scene. There's no other place where the poker experience is more palpable than on the beautiful turquoise Lake Wörthersee in summer! Casino Velden treated participants to culinary delights such as Carinthia's "Brettljause", a suckling pig roast and the culinary delights cooked up by Marcel J. Vanic's excellent 3-toque kitchen. A motorboat, available to players free of charge and complete with a driver, allowed them to enjoy relaxing hours on the lake, while two Audi e-tron cars from Autohaus Velden and drive Wiegele were made available for a pleasant arrival to the casino.