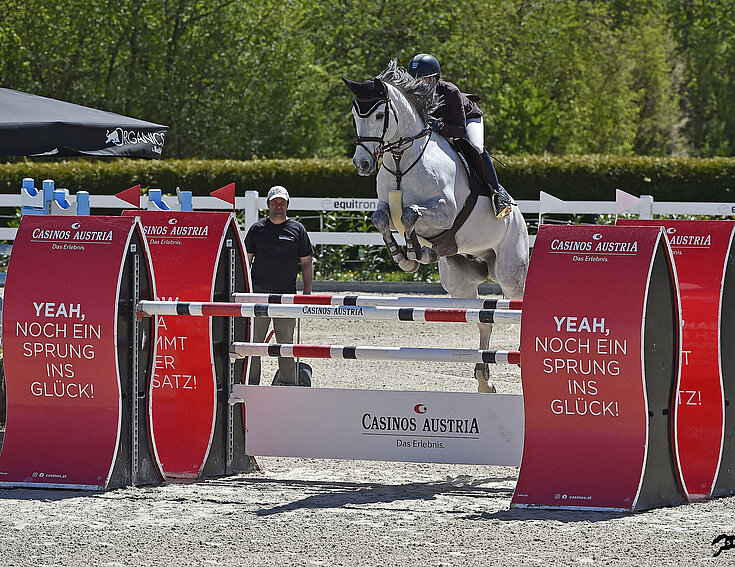 With the new Future Cup, Casinos Austria is now accompanying young show jumpers towards the 2024 Olympics. The Casino Grand Prix is being placed in the hands of Equitron.
With the Casino Grand Prix, Casinos Austria launched a tournament series in 1987 that was intended to introduce Austrian show jumpers to the international elite. After 33 years, we can proudly say that the task has been accomplished: during this time, the Casino Grand Prix has become a brand name and is still the most highly remunerated and traditional national show jumping series.
Casinos Austria is now entering a new era with the "Casinos Austria Future Cup". As a leading Austrian company with a high level of social responsibility, Casinos Austria, as co-initiator, main sponsor and namesake of the new Casinos Austria Future Cup, provides support to young Austrian equestrian talents on their way to the 2024 Olympics. The "Young Rider" (18+) and the U-25 riders will be provided support similar to the established participants in the Casino Grand Prix, who have been accustomed to it for many years.
Director General Bettina Glatz-Kremsner is convinced of the importance of promoting young talent and the success of the new tournament series: "At Casinos Austria, we have already launched numerous prizes and awards to accompany young talents on their way to the top. Awards are important because they are a confirmation of hard work and provide courage and self-confidence. These are all important parameters for turning talent into success. Winning a trophy is the applause that provides additional motivation for top performance. We sincerely wish that, with our support, all future participants in the Casinos Austria Future Cup always have that little bit of luck in their saddlebags that is so often the last little nudge towards great success".
Casinos Austria Future Cup
Casinos Austria stands for enthusiasm, excitement and one-of-a-kind experiences. And this is the best way to describe the emotions that the young riders will feel at the new Casinos Austria Future Cup. They bring with them the necessary enthusiasm for this sport, which enables them to take part in tournaments like this one. With the five preliminary rounds, there will be plenty of exciting moments and all are sure to come away from the competitions with unique experiences for their way to the top. The top 16 from the five point-based preliminaries will move on to the finals.
All competitions will take place at the same venues and on the same dates as the former Casino Grand Prix:
Preliminaries
6 to 9 May 2021 / Lamprechtshausen (Styria)
3 to 6 June 2021 / Lassee (Lower Austria)
8 to 11 July 2021 / Zeltweg-Farrach (Styria)
5 to 8 August 2021 / Kammer-Schörfling (Upper Austria)
9 to 10 September 2021 / St. Margarethen (Carinthia)
Finals
12 September 2021 / St. Margarethen (Carinthia)
With their range of offers, the casinos bring added value to many regions and thus contribute to value creation to an extent far surpassing their own revenue performance. All of it with a clear focus on sustainability. Sustainability is also an important keyword in the company when it comes to partnerships with sponsors. That is why we are pleased to support young talent in show jumping together with the Austrian Equestrian Sports Association (OEPS) with a view to the 2024 Olympic Games.