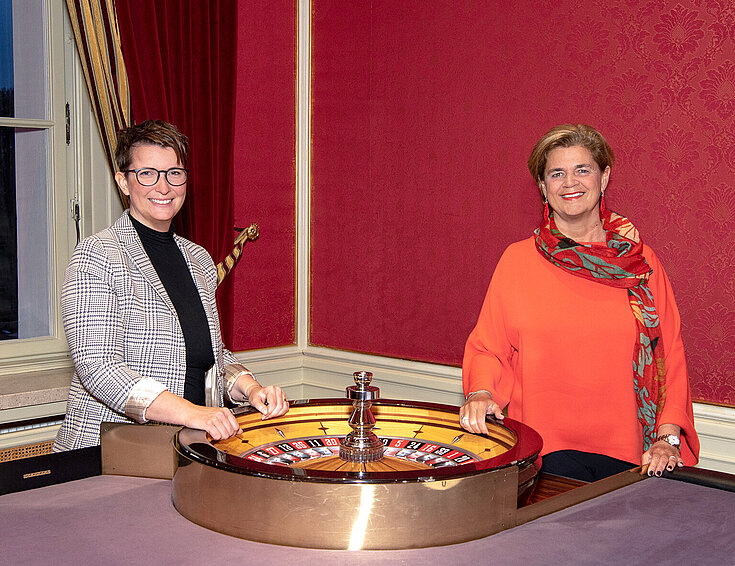 Marion Roseneder is set to take over the management of Casino Velden. As the casino's future director, she brings many years of experience in the Group and the casino business to her new role.
In the first quarter of 2022, Casino Velden will have a new director, Marion Roseneder. She will succeed Hermann Weissitsch, who is going into well-deserved retirement after 38 successful years at Casinos Austria.
Marion Roseneder, 38, will be the first woman to head a Casinos Austria casino. She first got a taste of casino life in 2005, when she worked at Casino Linz as an event manager. After studying tourism, she began her casino career in the marketing department at Casinos Austria's corporate headquarters in 2007. In 2013, she moved to Casino Salzburg as a marketing manager, positioning it as a popular nightlife and event location, and in October 2020, she was promoted to deputy director of Casino Salzburg.
With her move to Casino Velden's top position, she is taking the next logical step, and in future, she will be bringing her experience and expertise to the Casino am Wörthersee. "I am honoured to be entrusted with the management of this wonderful casino, and I very much look forward to working with the local team to lead our Velden operation into a bright, successful future," Roseneder said about her appointment.
"With Marion Roseneder, we will have a long-standing casino manager at the helm of Casino Velden; she is well familiar with the challenges as well as the opportunities of our business. It is about time to finally be able to welcome a female director to the top ranks of our casino directors. As a tourism expert and organisational developer, she will provide new impulses at Casino Velden," says Casinos Austria General Manager Bettina Glatz-Kremsner.
Casino Velden is a leading operation in the Wörthersee region and a popular meeting place for national and international guests who are enthusiastic about gaming. It is widely known for its vibrant atmosphere and culinary excellence. The breathtaking view of Lake Wörthersee and the Mediterranean flair of the lakeside promenade, cafés, restaurants and bars make any evening in Velden memorable experience.
As an event location, the Casino Velden is an important partner in the region and, thanks to its overall concept, offers all kinds of possibilities. Workshops, product presentations, formal dances, gala dinners and conferences – the casino ensures first-class events with a unique view of Lake Wörthersee.