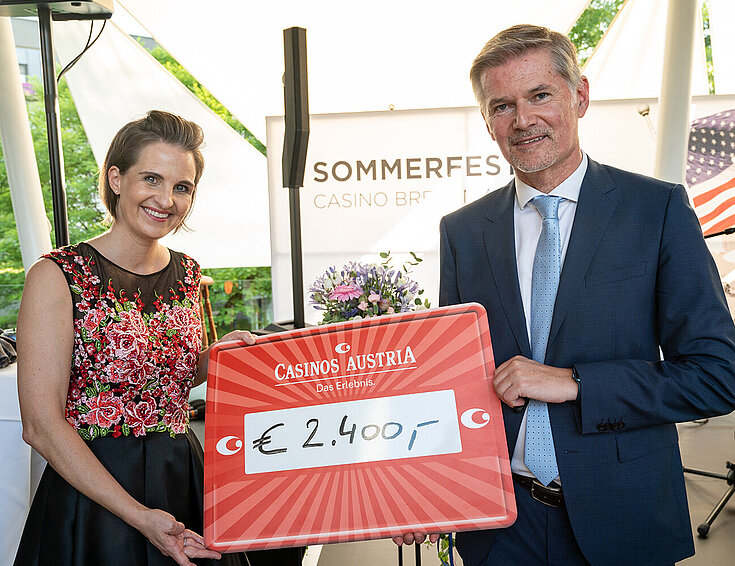 The Bregenz Festival and Casino Bregenz hosted the Summer Festival – a warm summer evening with music, song & soft ice cream.
On the occasion of this year's play ("Madame Butterfly") on Lake Constance, Casino Bregenz and the Bregenz Festival celebrated the 2022 Summer Festival. On a warm, sunny Sunday – July 3, 2022 – our guests strolled onto the terrace of the FALSTAFF casino restaurant.
With all her charm and warmth, hostess Martina Ess guided the guests through the evening and welcomed host and Casino Director Bernhard Moosbrugger, State Minister Marco Tittler and Bregenz's Mayor Michael Ritsch, MBA to the stage.
Once again, the long-standing cooperation, neighbourhood and friendship with the Bregenz Festival was the focus of this year's festival. Both Festival Director Elisabeth Sobotka and Festival President Hans-Peter Metzler praised the new show being performed on Lake Constance, as well as the house opera "Siberia".
The highlights on stage were the artistic performances. Ambur Braid, soprano from Canada and the lead in the house opera "Siberia", performed an aria sung by her character Stephana.
Finally, tenor Edgaras Montvidas from Lithuania, who plays the male leading role of Pinkerton, sang an excerpt from "Madame Butterfly" together with Barno Ismatullaeva, soprano from Uzbekistan, who plays the female leading role. They were accompanied on the piano by Chiara Pulsoni ("Siberia") and Ania Marchwinska ("Madame Butterfly").
To give Lady Luck a chance, prizes from the Bregenz Festival and Casino Bregenz were raffled off among all guests. Director Bernhard Moosbrugger took charge of the roulette wheel, and the number 26 turned out to be the lucky number of the evening.
The festive evening was rounded off by a charity campaign in aid of "Nachbar in Not". Casino Bregenz rounded up the proceeds from the guests' donations to a total of 2,400 euros on the same evening.
Afterwards, guests were treated to culinary delights from the kitchen of the FALSTAFF casino restaurant, and for dessert delicious soft ice cream from Linda's Ice Cream was served.