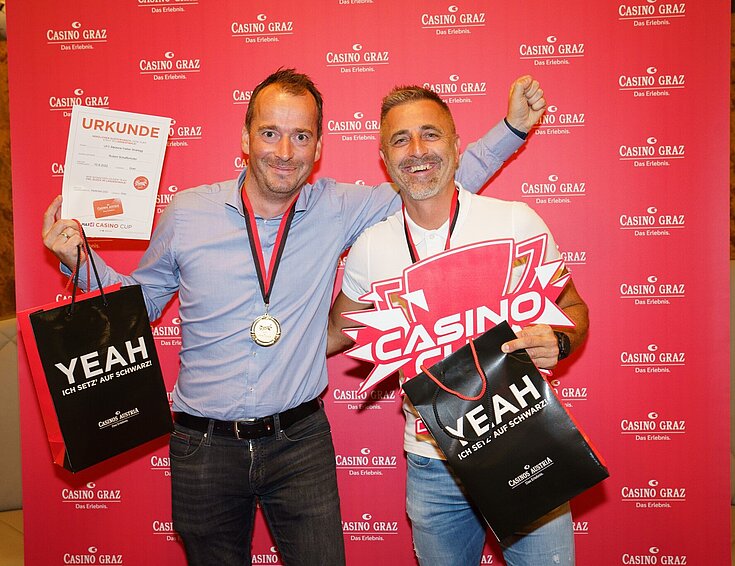 For the third time, football clubs from Styria competed in the preliminary round of the Casino Cup. The winning team will get to go to an unforgettable one-week training camp in Turkey worth over 20,000 euros.
Usually, the green turf is the teams' home – but this time FC Gleisdorf 09 (Regional League Centre), SV Gaulhofer Übelbach (Regional League Centre), TUS Greinbach (Lower League East) and FC Oberes Feistritztal (Lower League East) had to prove their luck at the green playing tables – more specifically, Casinos Graz's roulette, blackjack and poker tables.
After a short warm-up session – shooting goals on the football pitch – the teams headed into the preliminary round in high spirits. They tested their luck with 20 minutes each of roulette and blackjack, followed by 60 minutes at the poker table. While TUS Greinbach was the clear winner at the roulette table, their luck clearly changed once they headed to the black jack table and FC Oberes Feistritztal scored the most points.
The four captains then maintained their best poker faces at the poker table. The SV Gaulhofer Übelbach players were confident of victory at first, but the game turned increasingly close as it went on. In the end, FC Oberes Feistritztal had Lady Luck on their side. The captains Robert Schafferhofer and Thomas Brunnhofer were crowned the winners of the card tables and earned a permanent place in the national finals for their FC Oberes Feistritztal. SV Gaulhofer Übelbach came in second place and TUS Greinbach in third. All dates, tournament standings and photos of the preliminary round are also available at puls4.com/casinocup.
Attention, football fans!
As in previous rounds, the fans continue to play an important role in the Casino Cup: until the national final at the end of September, fans of the participating teams can check in at the casino and pick up a free "Supporter Bonus" ticket (without any obligation to spend money at the casino). The collected tickets will be credited to the teams as additional tournament points in the national final.
The main prize: a one-week training camp in Turkey
Whoever then prevails at the Austrian final in autumn can look forward to a spectacular main prize: the winning Casino Cup team will get to go to an unforgettable one-week training camp in Turkey worth over 20,000 euros. In addition to the flights and transfers, the prize includes a stay in an all-inclusive hotel specialising in training camps. The team (20 people) will be provided with FIFA standard training sessions (90 minutes each) twice a day. The team also has access to spa and fitness rooms and a dedicated meeting room. A laundry service is provided for sports equipment.
The Austrian final of the Casino Cup will be shown as part of an entertaining primetime TV show by PULS 4 in autumn of 2022.