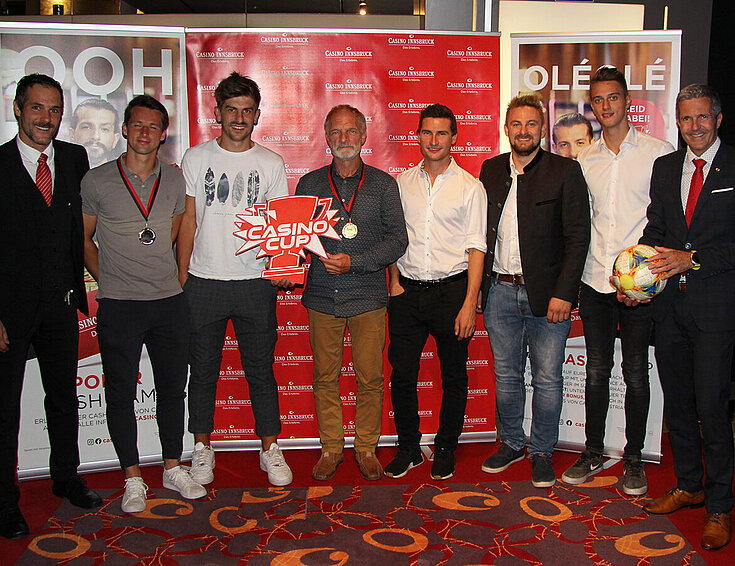 Who will emerge as the champion at the roulette, blackjack and poker tables? On August 24, the SPG Hopfgarten/Itter team played their way to winning the second and last Casino Cup preliminary round for Tyrolean football teams and thus moved one step closer to the main prize – a one-week training camp in Turkey worth over 20,000 euros.
Two football clubs competed in the second Casino Cup preliminary round at Casino Innsbruck on Wednesday, August 24: SPG Hopfgarten/Itter (Regional League East) and SV Telfs (Regional League West).
After a joint reception at the Captains' Meeting, hosted by Casino Innsbruck Floor Manager Helmut Bischofer, the games got underway: the participants played 20 minutes each of roulette and blackjack, followed by 60 minutes at the poker table. What was at stake was not money, but tournament chips; it was all about the exciting entertainment and the fun factor.
SPG Hopfgarten/Itter with its captains Sebastian Schneider (roulette), Stefan Baumann (black jack) and Ernst Wurzenrainer (poker) had the requisite luck on their side and emerged as the winners. This means that the team will definitely be taking part in the national final in Casino Innsbruck. Christoph Häfele started out as team captain for SV Telfs in the roulette round and the final poker round and made it to second place. Michael Augustin represented SV Telfs at the black jack table.
The main prize: a one-week training camp in Turkey
Who can bring home the main prize for their team? The winning team gets to enjoy a one-week training camp in Turkey worth over 20,000 euros. The package includes a stay in an all-inclusive hotel specialising in training camps. The team (20 people) will be provided with FIFA standard training sessions (90 minutes each) twice a day. The team also has access to spa and fitness rooms and a dedicated meeting room. A laundry service is provided for sports equipment.
Casino Innsbruck is keeping its fingers crossed for all participants.