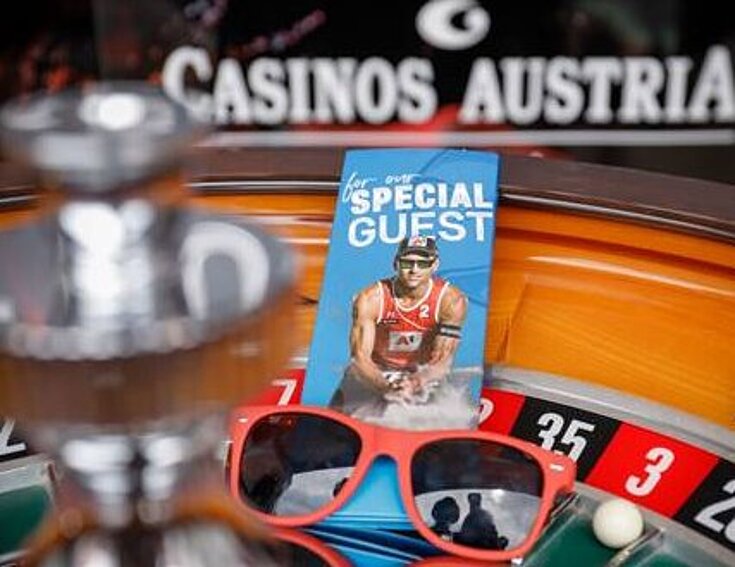 Exciting party atmosphere and action-packed matches for the European Championship title. From 11 to 15 August 2021, the European beach elite will gather in the heart of the capital in a pop-up stadium on Vienna's Heumarkt.
In the midst of this major beach volleyball event, "Casinos Austria Day" will take place on Friday, 13 August. And it promises an extra dose of gaming, fun and excitement.
A "Queen of the Beach" and a "King of the Beach" will be out and about with promotional dice in the stadium grounds on this day. With a little luck, the quickest to spot the King or Queen in the stands will take part in the city's biggest roulette game on centre court – and can also hope to win two VIP tickets for the final day on 15 August. Dancers in a "Rouge & Noir" look will also ensure a fantastic atmosphere, and the spectators will receive cool giveaways. Guests watching the games from the VIP area will also have plenty to look forward to on Casinos Austria Day: thrilling games with non-cash prizes for a good cause await them at the American Roulette table.
Dieter Türmer, head of Marketing & Customer Management, sums up Casinos Austria's sponsoring commitment at one of the coolest sports events of this year: "As a sponsor, we would also like to provide the event's fans with exciting entertainment besides the sport in order to demonstrate once more that Casinos Austria can do one thing above all: provide thrilling experiences. And not just at the one-of-a-kind pop-up location that Hannes Jagerhofer and his team has set up in the heart of Vienna, but also in our own gaming locations".
At Kärntnerstraße 41, Casino Vienna is the perfect location for a "warm up" or a "cool down" following the action on centre court: it is just a few minutes' walk from the Beach Volleyball European Championships' pop-up stadium, making it predestined for the perfect end to an eventful day featuring American Roulette, blackjack, poker and a wide variety of slot machines. Of course, you can come to Casino Vienna styled up, but at the jackpot casino you can also experience the thrill of luck quite casually. Sounds just like "game, set and match"!